Generally speaking, I love to cook. But there are some nights that this mama likes a meal made for me instead of by me. Going out to a nice restaurant with three children is #1) a little stressful and #2) ridiculously expensive. Plus, I like the idea of staying in, chowing down and including a glass of wine I didn't pay and arm and a leg for. Also, both my husband and I can have a glass and not worry about driving home after. But our choice has almost always been limited to pizza since it is the least expensive of them all and the kids love pizza (I'm a little fed up of it since it's always at birthday parties and get-togethers).
We really don't go out much, but just the other day I took my little ones to the mall to have lunch (lunch!) and even with two kid's meals, the total, came to a whopping $55.14 for just the four of us.
And while that is ok once in a blue moon, it still gets under my skin that is costs so much. It actually makes me feel guilty for not making the meal myself, which takes away from the whole treat of ordering out. When I order a meal, I want us all to enjoy it, and I don't want to regret it afterwards because it costs so much for our family of five.
Introducing Quesada's Home Edition. What's Quesada, you ask? Not long ago I didn't know about it either, but now I am a big fan. And from what I can tell from others, once you try Quesada Tacos and Burritos, you are an instant fan. But maybe some of you knew that already.
I'm sure you have tried taco night at home. I have, and it's so much fun for the kids. But from now on I will go to Quesada and pick up the Build Your Own Tacos Kit.
5 reasons I will keep Quesada's Home Edition at the top of my take-out list:
Taste – We don't venture out of our normal dishes much so the fact that we all liked a Mexican meal says a lot about its taste. The Chipotle salsa was not too spicy, the meats were tender, the cilantro was fresh, and the tacos and tortillas were scrumptious.
Variety – there were enough choices to satisfy everyone's taste buds. My husband was happy with his steak, I loved the tender chicken and all the vegetables and the kids went to town making all different combinations.
Ease – being able to have enough diced vegetables and meats and sauces all ready without doing ANY prep was priceless. Oh and I can't forget to mention how easy the take-home boxes were; they have a perforated side to tear away the whole top and have the ingredients sit nicely on your table (LOVED that).
Eco-friendly – I was thrilled to see that the Home Edition meal consisted of zero waste for landfills. The Home Edition boxes were made from partly recycled cardboard, and the tacos and chips were in paper bags. There was only one plastic zip bag for the tortillas, and the mini plastic containers for the salsa and sour cream, that I recycled along with everything else.
Price – you can't beat it. For $29.95 to feed my family of five was incredible. We even had a few leftovers that I mixed into a salad the next day for lunch. If your family has a giant appetite, there is also the option of adding on, but we were good with what we got.
I am so happy to announce that there will be a Twitter party on November 26th at 9pm that I will be hosting. My lovely moderators are Patricia Oliver and Tanya Toledano. We've done Twitter parties together before and we know how to party – it's going to be fun!
Here are the details: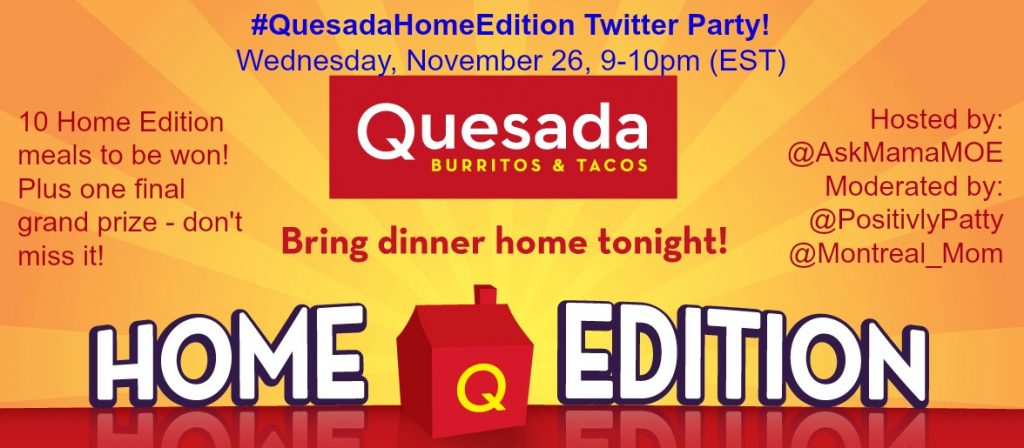 Remember, in order to win, you must follow the host, moderators and @QuesadaBurritos on Twitter, as well as RSVP here. It's your chance to win a Home Edition to try yourself, and I know you will enjoy it! This Twitter party is for Canadian residents only.
Disclaimer: I was compensated to sample the new Quesada Home Edition menu. As always, all opinions are honest and my own.