Have you ever attended one of those incredible show fairs in your area that are about one subject, like a wedding show or a gift show? They are incredible! The amount of information available at your fingertips is so great, but the downside is, you may not be free on the three days that the show is going on. And then you miss everything.
Well, the My Baby Virtual Fair is changing all of that. The event is taking place from March 12th to April 30th with live meetings with exhibitors taking place March 12-14. Now in its second year, the fair is exactly what it sounds like. You can virtually attend the fair from the comfort of your own home. The exhibitors have created their own booth, just like the ones you would see at a real life fair. In fact there is even more information since you can open files, see videos and get real questions answered.
A wonderful Montreal-based company, Rose Ou Bleu is participating as a vendor at the fair this year.
I've actually been to the Rose Ou Bleu store for myself and my children, and it is a fantastic store, complete with all things baby related. Have a look:
If you can't get to their store, they have a great website that can help you with everything you need. What I like about Rose Ou Bleu is their selection of products. Unlike the big box stores for babies and children, Rose Ou Bleu has taken time to carefully select unique, quality-based brands, many of which are Canadian. Brands such as Baby Jogger, Robeez, Monte Design, Kushies can be found as well as Quebec brands like Glup, Perlimpinpin, Petit Coulou, Attitude, Adzif, Maman Kangourou, and Nneka.
If you know my blog, you know I love giving a shout out to local businesses when I can. So here are a few products I love from Quebec brands found at Rose Ou Bleu:
During the virtual fair, Rose Ou Bleu will be giving away a City Select stroller from Baby Jogger. As well, between the 12th and 16th of March, Rose Ou Bleu will be giving a 10% discount to all online purchases. And as always,their Canadian shop offers free shopping for all orders $150 or more before taxes, which is amazing for those big ticket items you need for baby.
GIVEAWAY!
Rose Ou Bleu has also offered a wonderful giveaway for Ask Mama MOE readers. Aden & Anais are my go-to baby blankets for new mamas. They are fabulous! I used them for my babies and they have tons of uses: burping cloth, swaddler, nursing cover, shade blanket for the stroller…awesome. And what's so good about the blankets is that they are thin and can go with you wherever you go without too much weight or space. My kids still have these blankets and now they are used as blankets for their stuffies, and sometimes, still, for them.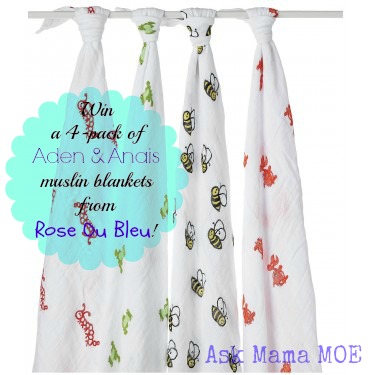 These are, in my mind, essential for any new mama and YOU have the chance to win a package of four (with a total value of $55). To enter, simply go to the Rose Ou Bleu website and tell me (with a comment below) one other product they offer on their Canadian online shop that you would like to gift or buy.
For bonus entries:
• Follow @AskMamaMOE on Twitter (leave your Twitter handle in a comment below)
• Tweet this giveaway by retweeting this post with the message: "I just entered a giveaway w/ @AskMamaMOE to win a 4-pack of Aden&Anais muslin blankets from #RoseOuBleu" (1 entry for every retweet, up to twice daily- please leave a link to the tweet in a comment below each time)
• Subscribe to AskMamaMOE.com (leave your email in a comment below)
The giveaway will end at 11:59 PM on Friday, March 28th, 2014. The lucky winner will be notified by e-mail. Open to Canadian residents only. Remember to include your e-mail in all entries!
Good luck to all!
For all information about promotions and events, along with great shopping tips, visit the Rose Ou Bleu Facebook page. And happy shopping at Rose Ou Bleu! Don't forget, today the Rose Ou Bleu team are available to answer all your questions at the My Baby Virtual Fair. Tell them Mama MOE says hi!