I've done it all. I've been in difficult positions, in awkward locations. I've done the football hold, the double football hold, I've nursed, I've pumped, I've soothed. I've had mastitis, I've been in agony. I've also experienced pure joy and complete pride and strength. And you know what? I'd do it all again in a heartbeat.
Breastfeeding. It's an experience like no other.
For my first baby it came as naturally as anything. Even though my first was an emergency c-section, he was two weeks overdo. That meant he was strong enough and big enough to latch on the moment he was in my arms. It hurt because of my surgery (oh, did it hurt) but it came easily for us both. I breastfed my first little one exclusively for almost a year and he weaned himself off once he was introduced to more solids.
The game changed when I had my preemie twins though. Everything was not easy. Everything was actually very difficult. Because they were born early, I had to pump with an industrial hospital pump to get my milk to come in. I was released from the hospital first. Then a week later, one of my twins was released. And then three weeks later, my second twin was released. What did that mean? That meant that breastfeeding was incredibly challenging. I lived about 30 minutes away from the NICU. My husband would watch our oldest (all of 2 years old) and the first twin, and I would travel myself by taxi to and from the hospital to deliver pumped milk and attempt nursing. Unfortunately the NICU had no problems giving formula if I didn't arrive when thought I would or if I hadn't pumped enough for the next day. Each time that happened I cringed because I was trying and I wanted to be everywhere for the both of them.
Add to this the nurses monitoring the body weight of the babies, and the fact that I didn't know if I was coming or going sometimes…I had to go into the small sanitary room of the NICU to pump in between nursing with the schedules of the NICU feedings. It was organized, but it was hectic and very stressful.
Once everyone was finally home, it lent itself to other problems. I had to monitor them myself without any nursing help. That was scary because they had been checked on by a team before that. I wanted to do everything right for them, and I refused to give them formula for as long as I could physically breastfeed.
After two months straight for exclusively nursing the twins, I had an attack. My body was not strong enough and I was rushed to the hospital. For a full year I was monitored by a neurosurgeon to make sure there was nothing more than exhaustion. There was a year where I was thought to have the onset of MS. It made for an even more stressful time while I was breastfeeding and mothering my twins and my toddler. And yes, I kept breastfeeding.
Why am I telling you all of this?
Because I think breastfeeding moms deserve more understanding and encouragement in general. With 92% of new moms reporting at least one breastfeeding concern three days after their baby's birth, and 40% of new moms reporting concern over their milk quality, this is a serious issue that needs to be addressed. And it has been. Now, for 2015 mamas and beyond, an incredible new aid has been created to help nursing mothers better understand their milk supply. It's called MilkSense and I believe it is such an outstanding device that I would have been over the moon to have this as my own personal breastfeeding sidekick.
What is MilkSense?
MilkSense is the world's first breastfeeding monitor that can measure how much breast milk a mother produces, as well as how much her baby is consuming. This is not a medical device, simply an awesome tool for mothers to gain confidence in their breastfeeding, and be aware of their milk supply.
After three measurements on each breast, the hand-held device is calibrated to your breasts and can accurately measure the amount of breast milk available in each breast, making it unique to your body.
Key points that make MilkSense amazing:
Fast and easy to use (measures in 10 seconds)
BPA free, PVC free and Phthalates free
Does not come into contact with baby
Portable for moms on the go
No apps or logs needed
Works with twins (yay!!)
While I was breastfeeding, I had charts, lists, elastics on my wrist, and a gadget I thought would be helpful. None worked so well. I would forget to write which breast I had fed which twin on, I would forget to switch the elastic on my wrist, and the gadget? Didn't help at all.
With MilkSense, the Bscale and the MilkSense Software Suite, a mama is set and organized. The MilkSense device and the BScale (that can hook on to any infant car seat) work together with the software allowing you to:
Keep track of your baby's weight (no more trips to the clinic!)
Provide a complete feeding growth analysis for you and your pediatrician (how many times I was asked questions I forgot the answers to)
Tracks breast productivity at different times of the day (incredible for working moms)
And so much more
Mothers who want to breastfeed should be supported. And with 15% of new moms experiencing lactation failure, MilkSense can be an incredible aid. With all the different tools and products out there for new moms and babies, this is the one I would jump on for new moms who want to breastfeed.
So to all the breastfeeding superhero mamas, this is a sidekick worth having.
I am so happy to announce that there will be a Twitter party on January 15th at 8:pm that I will be hosting with MilkSense. We'll be discussing breastfeeding, the MilkSense device and giving away prizes to mamas, including one MilkSense device valued at $199!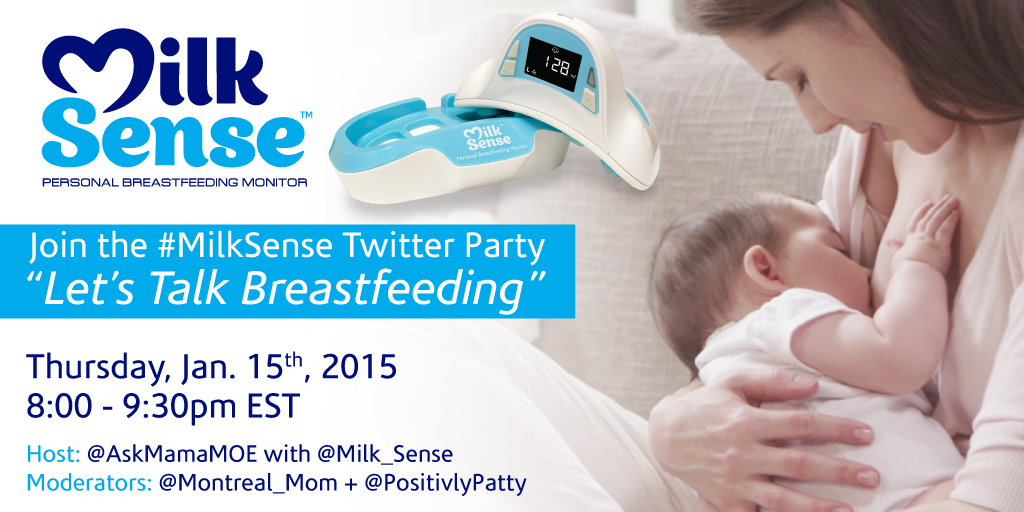 Remember, in order to win, you must RSVP below and follow the hosts and moderators on Twitter.
*Please note: In order to use MilkSense, your baby must be 1 week old, and weight over 4.4 pounds. My preemies were over that weight from the beginning, so I would have benefited from this so much almost right away.
TWITTER PARTY RULES
1) You must be a resident of US or Canada age 18 or older in order to participate in the contest.
2) In order to enter into the contest, you must correctly answer (on Twitter) at least one question posed during the Twitter Party using the hashtag #MilkSense
3) In order to enter the contest you must follow  @AskMamaMOE @montreal_mom & @PositivlyPatty so that you can receive direct messages in the event that you win.
4) Winners will be chosen at random throughout the Twitter Party
5) Winners will be announced via Twitter
6) Only 1 prize per participant
7) Winners will have to answer a skill-testing question to claim their prize
8) Any litigation respecting the conduct or organization of a publicity contest may be submitted to the Régie des alcools, des courses et des jeux for a ruling. Any litigation respecting the awarding of a prize may be submitted to the Régie only for the purpose of helping the parties reach a settlement
Prizing is as follows: Questions 1-9 will have one winner of a $25 Walmart gift card (per question). Question 10 will have one winner of a MilkSense device.
Disclaimer: I was compensated for the post, but I agreed to work with MilkSense because I believe it is an incredible product and I appreciate products that can help mamas in positive ways, especially when it comes to breastfeeding. All opinions are honest and my own, as always.