I am so thankful to know the amazing, positive, spunky, artistic gem of a person, Sarena Miller. If you don't know her, she runs the women's networking group in Montreal called We2.
I've been attending her lunches, workshops and events for years now. I always get something amazing out of coming to meetups and learning about other women entrepreneurs making a difference with their work.
Each year, We2 has a holiday fair which has always been a fun morning filled with good conversation, delicious food, and amazing shopping and prizes. Well, this year, Sarena has stepped it up a notch or 10. The We2 Holiday Fair will take place at the Holiday Inn Pointe Claire (where I have #SFTH), and there will be more vendors, more prizes, a silent auction, music, dancing and just plain fun!
I'm so looking forward to getting my Christmas shopping done this Sunday because I know many of the vendors showcasing their goods and services and they are all create unique and wonderful gifts for friends and family.
To entice you to check out the We2 Holiday Fair on Sunday from 10-4, here is just a sample of the amazing vendors you can find there.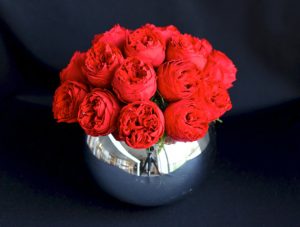 Carolina Merizalde of Fleur et Sense – I have gotten to know Carolina personally and I can tell you two incredible things about her flowers. First, they last 2-3 weeks longer than any other floral arrangements you will buy anywhere else in the city (and there is a reason, you can ask her). Second, her care for arranging your flowers goes well beyond other florists because of her passion for her work. Carolina's modern designs will wow your friends and family.  Get ready to shop for fresh and preserved floral arrangements (that last five years!), as well as certificates and monthly subscriptions. Imagine giving someone the gift of fresh floral arrangements each month for a year this Christmas?! (PS If you are reading this, husband, I'm directing this to you)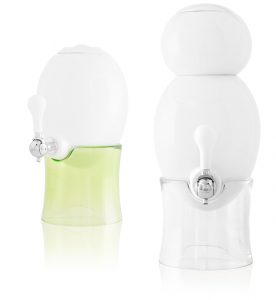 Noemie Desrocher will be showcasing Aquaovo products. I fell in love with Aquaovo when I was introduced to them at the Green Expo a few year back. Their stunning water dispensers have a filtering system that was inspired by nature. If their luxury pieces are only something you aspire to have one day (like me), they also have personal water filtration systems, water bottles, as well as insulated glass infusers for water, tea and coffee. I have the Thermo-O glass infuser and love it.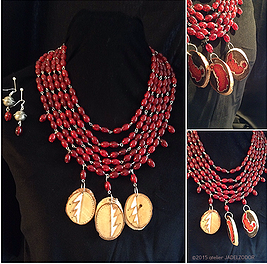 Lesia Schwec of Jadelzodor – an artist with Ukrainian heritage, Lesia will be showcasing her very unique pieces of jewelry and headdresses, crowns and accessories. Have an opera or stage performer friend, or a Frida Kahlo lover? How about getting her a unique headdress?! Lesia also has pyrography jewellery, which are "slices of wood, burned with a design going back in historical time and applied for contemporary fashion using a pyrography iron".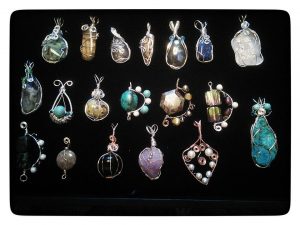 Mary Ann Crevier – her Simply Intuitive Jewelry line consists of handmade, one of a kind bracelets, pendants, and even dog collars made with healing gemstones and crystals. There will be many different designs to choose from. Consider a more intimate piece of jewelry as a gift for someone special. Mary Ann will be able to assist you with your selection.
These are just four of the artisans and there are over forty attending! To read about four other vendors, visit my very good friend Tanya's blog, montrealmom.
This is way more than the standard holiday fair. Not only will you have fun shopping local, The Beat 92.5 is going to be there to pump up the fun, and there will be two performances from 8Count!
Like a true successful entrepreneurial woman, Sarena has a charitable aspect to the holiday fair. The proceeds of the silent auction will go to The West Island Assistance Fund Fonds / D'aides, Ouest de L'ile – who have donated over 1 million dollars in food, clothing and furniture to families in need, right here in the West Island.
So won't you join me in a great shopping experience this Sunday? I look forward to running through my Christmas list for friends and family, having a really fun time, and supporting local businesses. So save the date and be sure to say hi!